---
Services
-
Quality assurance & Control
-
Inspections & Monitoring
-
Welding consultancy
-
Material consultancy
-
Material fatigue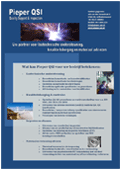 Download our brochure!
Quality Assurance & Control
One of our services is to drawn up en maintain quality assurances procedures and work instructions, as well as drawn up and updating companies purchase specifications. We also deliver in company training courses related to quality assurance in the production environment.
Read more about Quality Assurance & Control
Inspections & Monitoring
We can take care of supervision for your company at your suppliers production facilities, as well as executing technical inspections of your (welded) products during production and if finished before shipment.
Read more about Inspection & Monitoring
Welding consultancy
Pieper QSI can support your company regarding several welding related technical advises and activities as well as reviewing of several welding related documentation.
Read more about Welding consultancy
Material consultancy
Pieper QSI can support and advise you regarding most suitable materials to use for applications where corrosion and wear is a problem.
Read more about Material consultancy
Material fatigue
In case where dynamic loads are present there is always a chance that constructions collapse because of material fatigue. Pieper QSI has several years of experience with this and can advise you with relation to applied details used for such constructions, as well for enhancing the fatigue strength of new or existing structures.
Read more about Material fatigue