---
WeldScanner dataloggers
Gepubliceerd op: 16 juni 2012 om 11:36
Pieper QSI is in the possession of data loggers by which welding parameters can be registered in an accurate way during welding procedure and/or welder qualifications.
This concerns among other a WeldScanners developed by the company HKS Prozesstechnik in Germany.
Beside logging process parameters this equipment has also the possible to show the electric caracteristiek of the welding process by way of the so-called scope function so that for example in case of MIG / MAG welding can be displayed if welding is executed in short circuit, spray or open arc range. If necessary also number of short cuts can be determined
Furthermore this equipment has an option to determine the t8 / 5 cooling time by way of a laser temperature measurement system. This option is especially useful for welding modern high strength steels where the maximum t8 / 5 cooling often is prescribed by the material manufacturer in order to ensure mechanical properties afterwards, or for (Super) Duplex Stainless Steels where intermetallic inclusions can originate in the microstructure when cooling time is to long.
With this WeldScanner option, this cooling time can be determined accurately so that decrease of mechanical properties can be prevented.
Beside above mentioned WeldScanneer we also have a TVC Mini Arc Logger III Datalogger for registration of welding parameters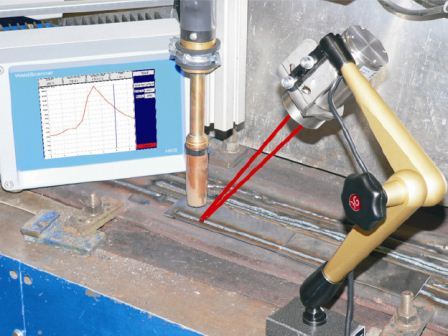 For more details please don't hesitate to contact us by way of info@pieper-qsi.nl